---
The legend about Bratislava princess who fell in love with the enemy
27. 11. 2011
Slovak version, sent by Adriana Lipkova and her 11 years old pupils from Bratislava school
Legenda o dcére hradného pána na Bratislavskom hrade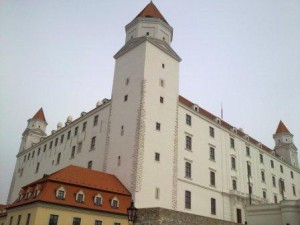 Legenda
rozpráva
o dcére hradného pána.
V čase tureckých vojen sa dcéra hradného pána na Bratislavskom hrade zamilovala do tureckého vodcu - Nakica Huseima. Po desiatich dňoch nahnevaný otec zatvoril svoju dcéru do izby, pretože odmietla mnoho bohatých ženíchov, lebo chcela iba Nakica Huseima. Zúfalé dievča požiadalo o pomoc jedného vojaka, ktorý bol veliteľom hradu a tajne ju miloval.
Keď sa dievča dostalo z hradu von, stretla Vida Zjeravica, ktorý bol maďarským špiónom a poznal dokonale turecký tábor a Nakica Huseima. Povedala mu svoj príbeh lásky a požiadala ho, aby ju do tureckého tábora doviedol, pretože jej srdce patrilo Nakicovi Huseimovi.
Špión nemohol dievča zobrať do tábora, tak vzal aspoň list pre Nakica Huseima.
Nakic prečítal list a začal sa smiať. Zjeravič vzal meč na obranu jej cti a začala divoká bitka. Keď prišli stráže do stanu kapitána, vedúci Huseim sa usmieval na konci meča. Zjeravic mu usekol hlavu a ušiel do lesa, kde ho čakala dievčina. Keď videla hlavu svojho milenca na konci meča zakričala: "Bože môj, čo ste to urobili, veď je to Nakic!" a spadla na zem v bezvedomí.
Keď sa prebudila, Zjeravič jej vysvetlil, čo sa stalo. Pozorne počúvala obrancu svojej cti. Na konci pocítila v duši k nemu akúsi zvláštnu príchylnosť, jeho hrdinskosť ju uchvátila, a voči pohanovi, ktorý tak zneuctil jej čisté city lásky, ju opanovala nenávisť. Zjeravic bol jej hrdina, ktorý bránil jej česť. Prišli spolu na hrad, a keď pán hradu videl hlavu svojho nepriateľa zakričal: "Môj najväčší nepriateľ je mŕtvy, a tu je jeho hlava! Dcéra moja, poď sem, odpustil som ti a odpúšťam aj vám všetkým!" A dvaja mladí ľudia ostali žiť spolu v láske.
English version
, sent by Adriana Lipkova and her 11 years old pupils from Bratislava school
The legend about the daughter of Bratislava castle lord who fell in love with the enemy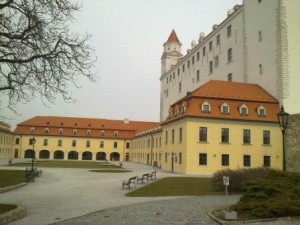 The legend is about the daughter of the lord of the castle.

At the time of Turkish wars the daughter of the lord of the castle fell in love in Turkish leader - Nakic Huseim. After ten days angry father locked up his daughter in the room, because she turned down many rich grooms. A desperate girl asked for help one soldier, he was the commander of the castle, who loved her.

When she was out

from the castle and near the gate, she met Vid Zjeravic; he was Hungarian spy who knew perfectly the Turkish camp and Nakic Huseim. She told him her love story and asked him to take her to the Turkish camp, because her heart belonged to Nakic Huseim. The spy couldn´t take the girl with him. So he took only a letter from the lady, leaving her behind. Husein was reading the letter and he started to laugh. Zjeravic took his sword to defend her honour and a wild battle began.

When the guards came to the tent of the captain, the head of Husein was smiling at the end of Zjeravic's sword. The spy ran away from the camp to the forest, where the lady was waiting for him. When she saw the head of her lover at the end of the sword she cried: "My Christ, what have you done? This is my Nakic!" She screamed and she lost consciousness and fell down to the ground.

When she woke up, Zjeravic explained to her what had happened. She

carefully listened to Zjeravic and at the end she felt a special kind of sympathy for him in her soul.

He was her hero, who defended her honour. They came to the castle and when the lord of Bratislava castle saw the head of his enemy, he cried: "My biggest enemy is dead, and here is his head! My daughter, come here, I forgave you all!" And

two young people lived together in love.